PLCopen is an association according to Dutch law and registered in the Netherlands. Dutch law requires a Board of Management with at least three people, acting as Chairman, Treasurer and Secretary.
PLCopen is controlled by its members through the General Meeting, who together generate the assets of PLCopen. Within PLCopen all members are treated on an equal basis, no matter of its company size, financial contribution and/or operational contribution. The only difference lies in the option between voting and non-voting membership, reflecting the right to vote in issues at the PLCopen General Meeting.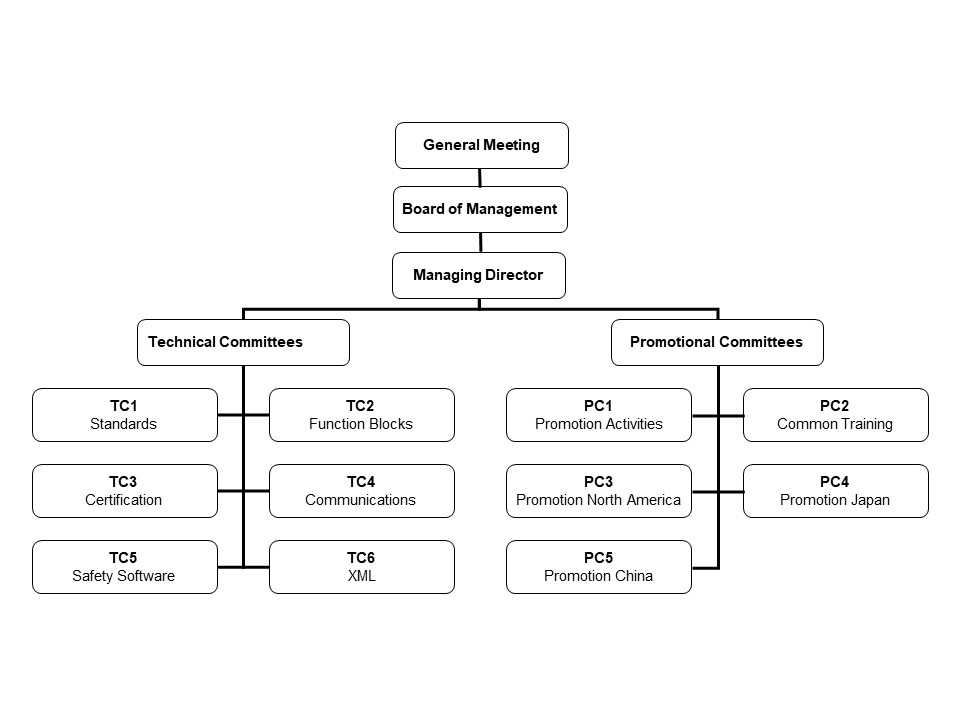 The PLCopen Board of Management consists of:
Chairman: Rene Simon (ifak)
Secretary: Carsten Weber (Phoenix Contact Electronics)
Treasurer: Manfred Werner (Codesys)
Member: Achim Koch (SMS Group)
Member: Jaeyoung Park (Omron)
Member: Efrossini Tsouchnika (Siemens)
The Managing Director of PLCopen is Eelco van der Wal.
Locations
The main office of PLCopen is in the Netherlands and has an overall responsibility, especially for Europe and all countries not covered by the regional supporting offices.
PLCopen Headquarters
Managing Director: Eelco van der Wal
Molenstraat 34
4201 CX Gorinchem
The Netherlands
Tel: +31-183-660261
Fax: +31-183-664821
info@PLCopen.org
www.PLCopen.org
PLCopen North America
Director: Bill Lydon
10308 W. Cascade Dr.
Franklin, WI 53132
USA
Tel: +1 - 414-427-5853
info@plcopen-na.org
PLCopen Japan
Managing Director: Takashi Matsukuma
c/o Omron Corporation
Technoly Development Div.
2-2-1, Nishi-Kusatsu, Kusatsu-City,
Shiga-Pref, 525-0035
Japan
+81.77.565.5484
info@plcopen-japan.jp
www.plcopen-japan.jp
PLCopen China
Chairman: Professor Yan Yi
Building No. 1 #301
No. 1 Jiao Chang Kou Str.
De Sheng Men Wai, Xicheng District
Beijing, 100120
China
Tel. +86 - 10 8228 5790
plcopen@riamb.ac.cn  
How to join PLCopen
You can contribute to PLCopen by joining our organization as a member. This will give you direct influence on technical and commercial issues.
PLCopen offers a number of membership categories. The annual membership contribution depends on voting and non-voting rights, the number of relevant employees involved with industrial control and the nature of the organization.
Read more on the Benefits of PLCopen and the PLCopen membership